Main Cities Codes:
Arklow 402, Cork 21, Dingle 66, Donegal 73, Drogheda 41, Dublin 1, Dundalk 42, Ennis 65, Galway 91, Kildare 45, Kilkenny 56, Killarney 64, Limerick 61, Sligo 71, Tipperary 62, Tralee 65, Tullamore 506, Waterford 51, Wexford 53

Use QUICK SEARCH for International Dialing Country/City codes
Communications: Ireland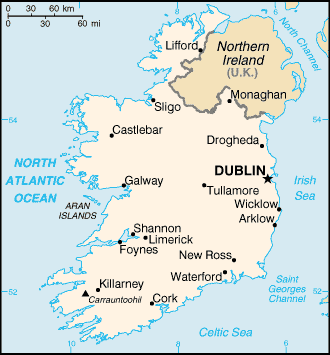 Telephones - main lines in use:

1.6 million (2002)

Telephones - mobile cellular:

3 million (2002)

Telephone system:

general assessment: modern digital system using cable and microwave radio relay
domestic: microwave radio relay
international: satellite earth station - 1 Intelsat (Atlantic Ocean)

Internet country code:

.ie

Internet Service Providers (ISPs):

22 (2000)

Internet users:

1.31 million (2002)
Useful Sites: Ireland
4 stars Dublin Luxury Hotels
Dublin Luxury Hotels offers an elegant and tranquil stay in one of our Dublin City Hotels.

Practical IT Solutions
IT solutions for businesses throughout the UK and Ireland.

StylishFone.com
mobile phone accessories to buy online.

HomesAdHoc:
Property For Sale in Mid Wales and the Border Counties. Property For Sale By Owner in UK, Southern & West of Ireland & South Africa. Luxury New Homes in Cyprus.