Prepaid Long Distance Service to Ukraine

Dialing Code of Ukraine +380

Now you can make a long distance call to Ukraine or any other country from your cell phone or any other phone at LDPOST's extremely low rates without switching your long distance company. This prepaid long distance service is designed for those customers who do not want to switch a long distance carrier and does not mind paying upfront. Service users will dial an access number and then, after the prompt, will dial the destination number. This service provides a maximum flexibility by allowing to call from mobile phones, home phones and even some business phones. You can have up to 10 telephone numbers registered on a single account and share the minutes.

Peanuts-LD Rates to Ukraine:
| Location | Rate per min NYC Local Access | Rate per min Toll Free Access | Place an order |
| --- | --- | --- | --- |
| Ukraine | 9.9 c/min | 11.4 c/min | order on-line now |
| Ukraine, mobile | 13.1 c/min | 14.6 c/min | order on-line now |
Main Cities Codes:
Cherkassy 472, Chernivitsi 3722, Crimea 652, Denepropetrovsk 562, Donetsk 622, Ivano-Frankiusk 3422, Kharkov 572, Kiev 44, Kirovohrad 552, Lugansk 642, Lviv 322, Mykolaiv 512, Odessa 482, Slavyansk 6262, Ternopil 3522, Umani 4744, Vinnytsia 432, Zhitomir 41

Use QUICK SEARCH for International Dialing Country/City codes
Communications: Ukraine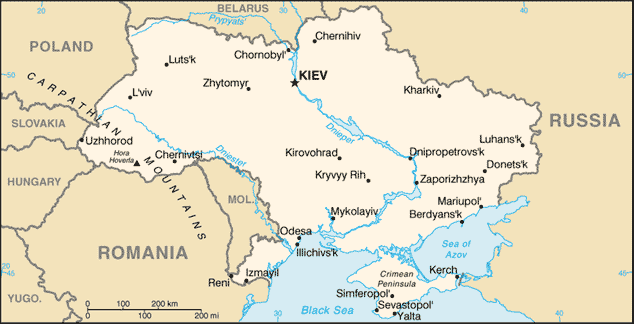 Telephones - main lines in use:

9.45 million (April 1999)

Telephones - mobile cellular:

236,000 (1998)

Telephone system:

general assessment: Ukraine's telecommunication development plan, running through 2005, emphasizes improving domestic trunk lines, international connections, and the mobile cellular system
domestic: at independence in December 1991, Ukraine inherited a telephone system that was antiquated, inefficient, and in disrepair; more than 3.5 million applications for telephones could not be satisfied; telephone density is now rising slowly and the domestic trunk system is being improved; the mobile cellular telephone system is expanding at a high rate
international: two new domestic trunk lines are a part of the fiber-optic Trans-Asia-Europe (TAE) system and three Ukrainian links have been installed in the fiber-optic Trans-European Lines (TEL) project which connects 18 countries; additional international service is provided by the Italy-Turkey-Ukraine-Russia (ITUR) fiber-optic submarine cable and by earth stations in the Intelsat, Inmarsat, and Intersputnik satellite systems

Internet country code:

.ua

Internet Service Providers (ISPs):

260 (2001)

Internet users:

750,000 (2001)